International Experience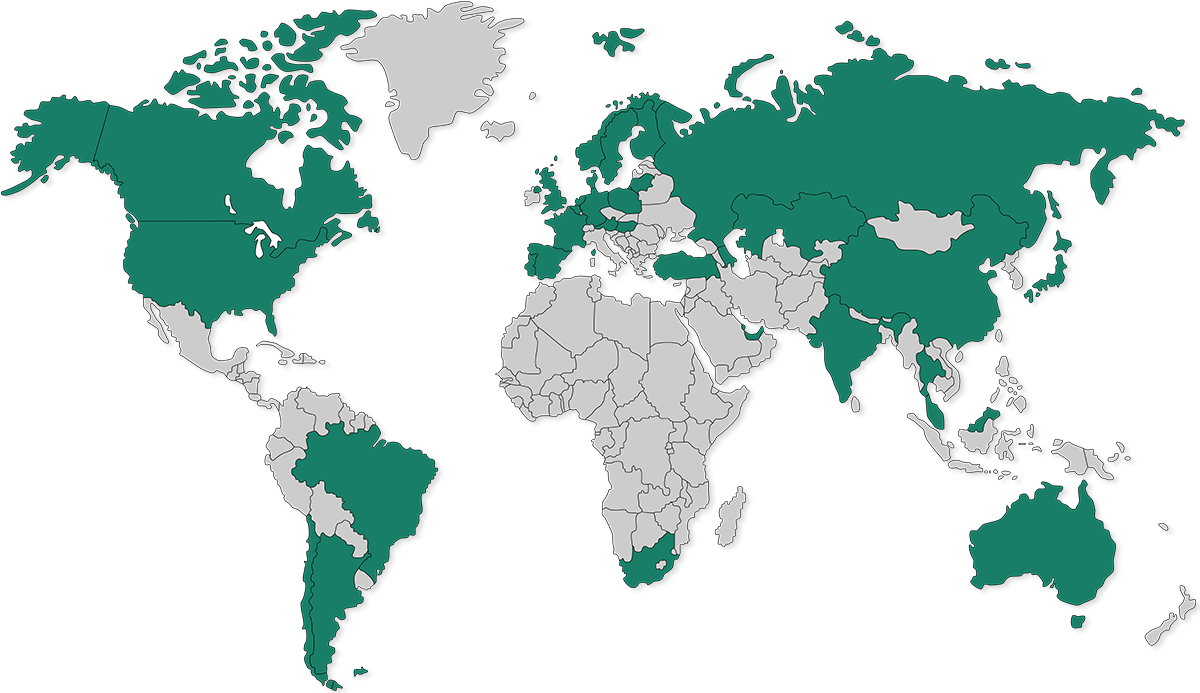 References in short
The world map provides an overview of the internationality of expertise. Established contacts to auditors, lawyers and business consultancies with specific local know-how exist in most of these countries.
The short description of substantial projects in the marked countries include a tag for the relevant key emphasis (using W-S-O-R).
Further details on selected projects are available on a supplementary PDF document.
A
Argentina (Buenos Aires)

Excellent contact to a well-connected business consultancy in Latin America.

W

-

S

-

O

-

R

Australia (Perth, Brisbane, Gladstone)

Successful privatisation and 100% takeover of a, until then, listed company through a so-called SCR (Selective Capital Reduction)

W-S-O-R

Support of the local management in the realignment and identification of strategic partners as well as M&A targets

W-S-O-R

Austria (Vienna)

Support of the local management in the realignment and reorganisation of the company
W-S-O-R

Azerbaijan (Baku)

Foundation of the permanent establishment of a Kazakh corporation
W-S-O-R
B
| | |
| --- | --- |
| Belgium (Antwerp) | |
| Detailed analysis of a large-scale project in Indonesia and related optimisation of project controlling tools | W-S-O-R |
| Brazil (Belo Horizonte, Rio de Janeiro) | |
| Market study, negotiations with various potential partners, market entry achieved through majority takeover | W-S-O-R |
C
| | |
| --- | --- |
| Canada (Calgary, Edmonton, Toronto, Halifax, St. Johns) | |
| Market study, partner identification, company evaluation, due diligence, conduct of negotiations (SPA & SHA) with various partners | W-S-O-R |
| Implementation of market entry strategy in 3 regions of Canada as well as the establishment of a holding company | W-S-O-R |
| Chile (Santiago de Chile) | |
| Market entry achieved through majority takeover | W-S-O-R |
| China (Shanghai, Beijing, Qingdao, Lanzhou) | |
| Search for strategic local partners | W-S-O-R |
| New establishment of two 100% subsidiaries "WFOE" | W-S-O-R |
| 6 years director of the intermediate holding company in Hong Kong | W-S-O-R |
D
| | |
| --- | --- |
| Denmark (Fredericia) | |
| Expansion of the industrial service to include scaffolding | W-S-O-R |
F
| | |
| --- | --- |
| Finland (Helsinki, Turku) | |
| Risk analyses & Controlling for large-scale projects (with subsequent turnaround of two identical ships) | W-S-O-R |
| Takeover of a competitor in special business segment | W-S-O-R |
| France (Paris, Lille) | |
| Claim negotiation for a major project in Belgium with Dutch and French participation (D, GB, FR, NL) | W-S-O-R |
| Takeover of a local competitor in combination with the sale of two companies in Netherlands and Belgium | W-S-O-R |
G
Germany (Bremen, Gelsenkirchen)

3 years Head of Accounting and Controlling

W-S-O-R

2 years Commercial Manager with responsibility for an extensive restructuring and incorporation of the subsidiary (EUR 25 million p.a.) into superordinate group structure

W-S-O-R

5 years controlling foreign affiliates 

W-S-O-R

10 years strategic business development (international)

W-S-O-R

Successful sale of an operating company (> EUR 50 million) due to a portfolio adjustment

W-S-O-R

3 years Managing Director of a trading company (EUR 20 million p.a.)

W-S-O-

R

3 years Managing Director of a construction company (EUR 90 million p.a.) with a considerable improvement of earnings and balance sheet ratios

W-S-O-R

3 years RFO (Regional Financial Officer) for 6 operating companies in 3 European countries (EUR 140 million p.a.)

W-S-O-

R

Great Britain (Newcastle, Mansfield)

Market entry through a majority takeover – second phase 100% takeover of a competitor through an earn-out.

W-S-O-R

More than 5 years Director and link to German parent company, realisation of profitable and sustainable growth (from EUR ~25 million to EUR ~100 million p.a.)

W-S-O-R
H
| | |
| --- | --- |
| Hungary (Budapest, Izsák)  | |
| Foundation of a joint venture with a local competitor | W-S-O-R |
I
| | |
| --- | --- |
| India (New Delhi, Mumbai, Raipur) | |
| 50% stake in a newly established company with a local partner | W-S-O-R |
| Due diligence of a potential manufacturing facility | W-S-O-R |
J
| | |
| --- | --- |
| Japan (Tokyo, Kawasaki) | |
| Market study, identification of potential partners with initial contact and conduct of negotiations | W-S-O-R |
K
| | |
| --- | --- |
| Kazakhstan (Atyrau, Aktau) | |
| Talks with potential partners followed by establishment of a 100% subsidiary | W-S-O-R |
L
| | |
| --- | --- |
| Lithuania (Vilnius, Kaunas, Klaipeda) | |
| Majority stake with 100% takeover at a later stage | W-S-O-R |
M
| | |
| --- | --- |
| Malaysia (Kuala Lumpur, Bintulu) | |
| Analysis of a large-scale project and organisational processes within the local company | W-S-O-R |
N
| | |
| --- | --- |
| Netherlands (Moerdijk) | |
| 5 years Commercial Manager in a legally independent company | W-S-O-R |
| Some years later – 6 months responsibility for restructuring and stabilisation of the company | W-S-O-R |
| Ultimately, company sale under a transnational deal across three countries | W-S-O-R |
| Norway (Stavanger, Bergen, Moss, Verdal, Trondheim, Hammerfest) | |
| Majority stake with custom-fit takeover concept for two companies supplementing the service portfolio – followed by a 100% takeover through a put/call option | W-S-O-R |
| Risk analysis and acceptance of an order for a long-term mega-project (EUR ~ 400 million) | W-S-O-R |
| Completion of the service range through the takeover of another competitor | W-S-O-R |
| 5 years Board Member of the principal company (profitable growth from EUR ~30 million to EUR >100 million p.a.) in excess of duration of mega-project | W-S-O-R |
P
Poland (Warsaw, Zabrze, Płock)

Excellent contact to a well-connected business consultancy in Eastern Europe

W

-

S

-

O

-

R

Majority takeover of several competitors with subsequent consolidation and transfer into a 100% subsidiary

W-S-O-R

Portugal (Lisbon)

Instead of the planned majority takeover a strategic alliance in a niche market was agreed

W-S-O-R
Q
| | |
| --- | --- |
| Qatar (Doha) | |
| Joint venture in the offshore sector | W-S-O-R |
R
| | |
| --- | --- |
| Russia (Moscow) | |
| Support of the regional management in conducting negotiations to establish a joint venture | W-S-O-R |
S
| | |
| --- | --- |
| Singapore | |
| Expansion of the service portfolio through a majority takeover | W-S-O-R |
| South Africa (Johannesburg) | |
| Discussion of specifics of the South African market as part of an international management meeting, i.e. Black Economic Empowerment (BEE)  | W-S-O-R |
| Spain (Bilbao) | |
| Support of the local management in controlling issues | W-S-O-R |
| Diversification through the takeover of adjacent trades | W-S-O-R |
| Sweden (Gothenburg) | |
| Support of the local management in controlling issues | W-S-O-R |
T
| | |
| --- | --- |
| Thailand (Rayong) | |
| Market exploration and management discussions | W-S-O-R |
| Turkey (Istanbul, Kayseri) | |
| Attempted majority takeover of an industrial service provider and a production facility | W-S-O-R |
U
| | |
| --- | --- |
| United Arab Emirates (Abu Dhabi, Dubai) | |
| Negotiations on a majority takeover in the marine & offshore sector | W-S-O-R |
| United Kingdom of Great Britain and Northern Ireland   | |
| United States (New York, Chicago)  | |
| Talks on potential takeovers as well as realisation of a joint venture in a niche market | W-S-O-R |